"The Flyin' Crêpeze" Mobile Food Truck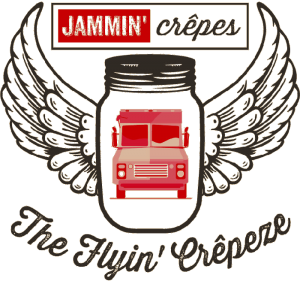 Jammin' Crêpes new mobile food truck, "The Flying Crêpeze", is ready-to-roll bringing you our signature farm-to-table sweet & savory crepes to farmer's markets, street fairs, private parties or corporate events. Whatever the occasion, we look forward to working closely with you to craft the perfect menu for your next event!" 
Request "The Flying Crêpeze" for your event now
"The Flyin' Crepeze" mobile food truck PACKAGES:
ALL OUR CRêPES ARE COOKED-TO-ORDER AND SERVED HOT OFF THE GRIDDLE.
WE OFFER A WIDE SELECTION OF SWEET & SAVORY CREATIONS TO CUSTOM DESIGN YOUR EVENT.
Jammin' Sweet Station:
Your selection of 5 X Sweet crêpes *
 
UP TO 50 GUESTS
UP TO 75 GUESTS
UP TO 100 GUESTS
Mo-Th
$ 750
$ 900
$1,150
Fr-Su
$ 850
$1,075
$1,300
Jammin' Savory Station:
Your selection of 4 X SAVORY crêpes *
 
UP TO 50 GUESTS
UP TO 75 GUESTS
UP TO 100 GUESTS
Mo-Th
$1,000
$1,250
$1,500
Fr-Su
$1,250
$1,575
$1,850
Jammin' Combo Station:
Your selection of: 3 X SAVORY & 4 X SWEET crêpes *
 
UP TO 50 GUESTS
UP TO 75 GUESTS
UP TO 100 GUESTS
Mo-Th
$1,250
$1,575
$2,000
Fr-Su
$1,350
$1,800
$2,200
Pricing for more than 100 guests available upon request
* prices are for 2 hours of cooking time / additional cooking time may be added at $100 per hour
our crêpes are filled with seasonal produce, meats & cheeses from regional farms and food Artisans. We offer an ever changing menu that highlights the very best local ingredients at their peak of freshness, complemented by our own micro-batch jams, pickles and condiments. Our batter is made from scratch using local free-range eggs and artisan flours.
Seasonal Sweet Crêpe Selection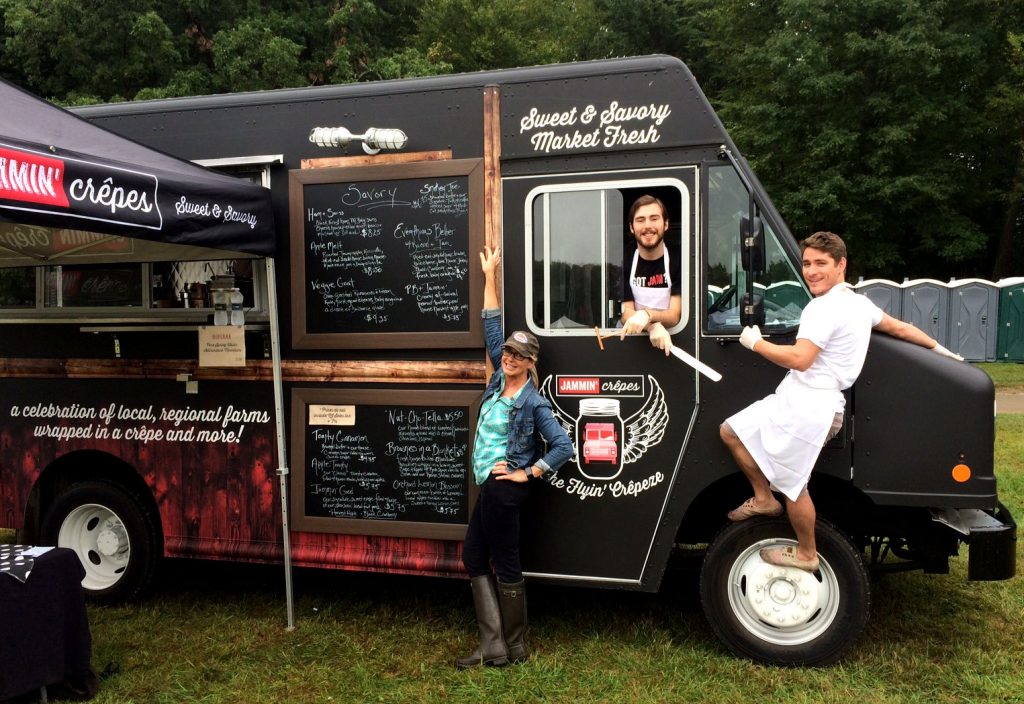 Classic Toasty Cinnamon
Browned Butter & Cinnamon Sugar
Orchard Toasty
Classic Cinnamon Toasty with our local Spiced Apples
Lemon & Lavender
A squeeze of fresh Lemon and a shake of our organic Lavender infused Sugar
Nutty S'more
Cinnamon Sugar, Browned butter & crushed graham crackers, topped with a toasted coconut marshmallow, "Nut-cho-tella" & graham cracker
Orchard Lemon Blossom
Our Lemon & Orchard Apple sweet and tangy Lemon Curd
Nut-Cho-Tella
Our own blend of freshly roasted Hazelnuts, Almonds & Cocoa
Jammin' Good
with your selection of one of our seasonal micro-batch Jams
Seasonal Savory Crêpe Selection
Classic Bacon Egg & Cheese – or – Egg & Cheese
Griggstown Farm Egg & thick-cut Smokehouse Bacon, with our blend of local Melting Cheeses
Green Eggs & Ham
Black Forest Ham, Griggstown Farm Egg, Mozzarella, fresh local Spinach & our seasonal Pesto
Vegan Hummus & Pickles
Sweet potato hummus with our house beet infused pickled turnips, fresh cucumbers, mixed greens & zaatar Aioli, on our gluten free / vegan crÊpe
Hammin' Cheese Melty
Black Forest Ham, local Swiss Cheese with our seasonal Pickles & Mustard Aioli
Everything's Better with Bacon & Jam
Thick-cut Smokehouse Bacon with our seasonal Jersey Berry Jam, local Wild Baby Arugula & creamy Brie Cheese
Turkey Club
Oven-roasted Turkey, Thick-cut Smokehouse Bacon, Mozzarella with our House Chutney & Horseradish Aioli
Sweet Potato Creperito
Oven-roasted Jersey Sweet Potatoes, Black Beans & Scallions with our own Melting Cheeses and Cilantro Crema
Oven-dried Tomato White Pizza
Oven-dried plum tomatoes, with mozzarella, fresh baby spinach, ricotta cheese & our house pesto
P B & J
All-natural Peanut Butter with your choice of our seasonal micro-batch Jams
General information
We provide compostable crÊpe cones & napkins in our pricing and can supply COMPOSTABLE plates and cutlery upon request.
Gluten-free & VEGAN batter is available upon request.
ASSORTED DRINKS, APPETIZERS, SEASONAL SOUPS & SALADS CAN BE ADDED TO YOUR EVENT MENU.
Our travel range is 60 miles outside Princeton, NJ – but we can make exceptions for a larger party/event & Additional charges will apply.
Truck is equipped with outdoor lighting for SERVICE AREA immediately surrounding truck.
Our truck requires a minimum space of 30' x 12' (14' height) on a level surface to park.
To reserve a date, we require a $500.00 deposit (REMAINING BALANCE DUE DAY OF EVENT).
We are required to charge NJ sales tax – unless event is for an exempt non-profit / a copy of a federal tax ID exemption certificate will be needed.
All fees are for a 2 hour cooking time / additional cooking time can be added @ $100 per hour.
For parties/events that begin after 9 pm, a "late night service charge" of $50 per staff member will be added & weekend rates will apply.
Deposits will be returned if event is canceled with 30 days notice.
you can reschedule in case of inclement weather up to 24 hrs before event, with no penalty. For same day cancelations due to weather, we will retain your deposit and you can reschedule up to one year in advance and deposit will be applied in full
Final Changes to guest count must be communicated 48 hours prior to event.
Our FULLY staffed TRUCK will arrive One hour prior to cooking time for set-up and will need approximately the same time to clean-up before "hitting the road".
We are fully insured and if needed, can add your venue as additionally insured for a fee of $100.
Should your venue require local permits (health & Fire) we will pass along the costs to you.
An 18% staff gratuity will be added to the fee for all corporate events and private events with over 100 guests.
For private events with less than 100 guests, we do not REQUIRE a gratuity. However, many customers want to give our staff something for a job well done and ask for suggestions.          A tip of 10% or $40-$50 per person is always appreciated.
Covid-19 guidelines
The food we serve is prepared in our licensed Kitchen at 20 Nassau Street, Princeton – where we strictly implement all required food handling and sanitizing measures required by the State of NJ.
All employees are required wear face coverings and to wear gloves when in contact with customers, handing prepared foods or serving food, utensils, and other items to customers
We must ensure 6 feet of physical distancing between workers and customers, except at the moment of payment and/or when employees are servicing the customer
In some cases, a physical barrier of sorts, maintaining a physical distance of 6 feet, may be used just outside the truck service window, when ordering and picking up orders.
Limitations of Customers placing orders: 1 Customer (or 1 Party/Group of 3 or less individuals) at a time ordering at the window / Next customer inline must wait 6 ft away from next person
Outdoor gatherings limited to most recent guidelines issued by the state of N.J.
NJ Executive Order No. 152 :  effective 6/22/20:
Outdoor gatherings are limited to 250 people, and attendees are required to be six feet apart. Individuals should wear face coverings at all times where social distancing measures are difficult to maintain
Nothing in the Order shall prevent a person at a gathering from momentarily removing their mask to place or receive an item in their mouth, if done for religious purposes, or for health and safety.  
Click here to request "The Flying Crêpeze" for your event now, or
Jammin' Kitchen Catering:  Mobile Food Truck  |  Take Away Offerings  |  Private Parties           [ Download Menu ]