Private Parties
Our Restaurant an/or Kitchen space @ 20 Nassau Street, Princeton is available for private events/parties on select evenings . . .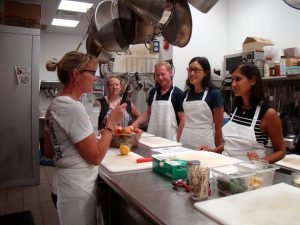 Catering@jammincrepes.com
Cocktail Reception or Sit-Down Dinner
Let us work with you to custom design your evening for friends, family & colleagues. Our space seats up to 45 adults but can accommodate more people if a casual event is desired.
Contact us @ Catering@jammincrepes.com
Corporate Team Building

Like anything in Life, making Crepes is a team effort . . . what better way to build teamwork than learning how to make fresh, farm-totable crepes!
Gather your team in our 43-seat restaurant for a fun and delicious themed evening that will include your selection of our signature appetizers, a special plated crepe dinner, a crepe making lesson and a structured team "contest" to create and name s new farm-to-table crepe. The winning team's creation will be featured on Jammin' Crepes Seasonal Specials board and announced via Social Media!
BYOB is always an option for our guests.
Suggest a minimum of 12 guests and maximum of 20.
Pricing @ $50 per Team Member  + $500 Site Fee & 18% Gratuity
Let us know how we can help your team have fun, bond together and grow.
Contact us @ Catering@jammincrepes.com
Contact us to set up a consultation to customize your private event:  Catering@jammincrepes.com
All pricing based on negotiated menu and will be subject to an additional $500 site fee and a 18% gratuity.
based upon availability
Jammin' Kitchen Catering:  Mobile Food Truck  |  Take Away Offerings  |  Private Parties           [ Download Menu ]